Grey in the living room – a timeless but contemporary choice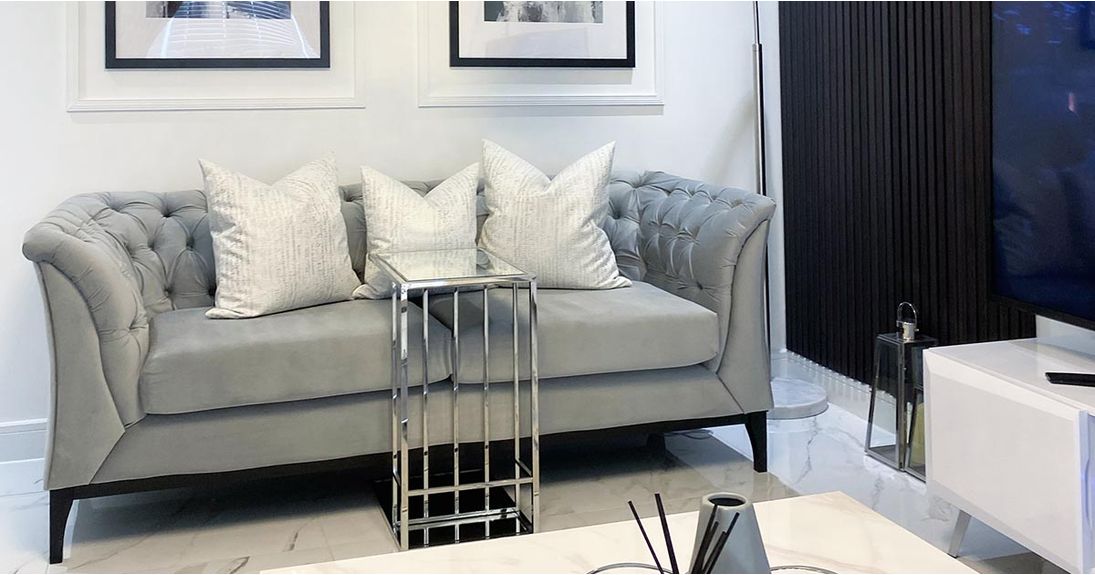 Grey is now defined as a classic colour, having been the most popular choice for interior furnishings for several years now. Its universal appeal is due largely to it successfully fusing with a variety of styles and blends seamlessly into most colour palettes. It is a colour which is very forgiving and when it is chosen as a base shade it is difficult to make errors. When grey is the dominating colour in the interior it is worth choosing accessories which will contrast as well as complement. Often a grey will have a lot of blue hues, which makes it a cold colour and therefore would benefit from warmer tones to harmonise the overall look.
How to choose the right shade of grey
There are many shades of grey, just put them side by side and you will see. Some may seem a bit green, violet or blue if it has cool undertones. If is a warm grey it may have red, orange, brown or yellow hues. Grey is often described as a cool colour, but with certain inherent notes, grey can deliver a gentle warmth to your interior too. Then there is the intensity of the shade. For a feeling of light and space, keep it pale, but for cosiness and drama, then choose a darker grey. To find the best shade of grey for your furniture it is often worth considering the direction of your living room. South-facing rooms are filled with light so all greys will work. East-facing spaces receive warmer light in the morning and cooler light in the evening, and vice versa for West-facing rooms. The changing light means you'll need to find a grey that works with both or decide what time of day you'll use the space and select accordingly.
The best accessories to add cosiness to a grey interior
colourful textiles such as cushions and throws.

deep pile rugs.

windows dressed to make a statement, not just for practicality.

metallic accents in gold and copper, such as vases and side tables

ambient and accent lighting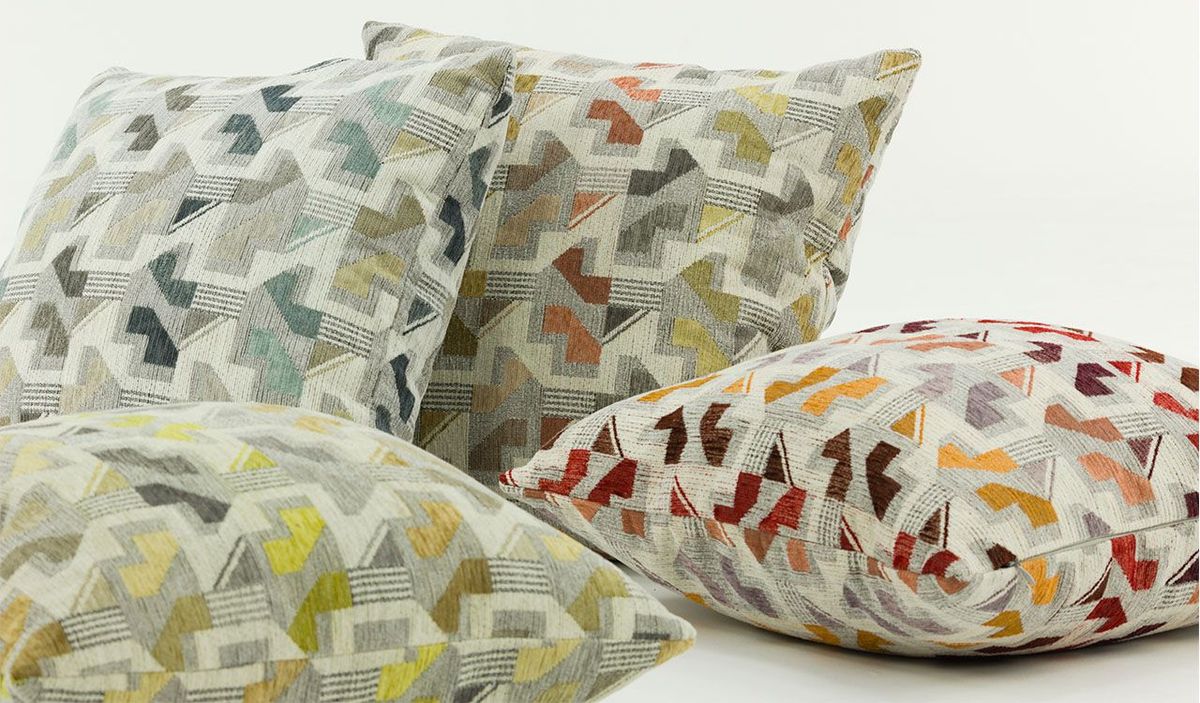 How to choose cushions for a grey sofa
One of the main benefits of choosing a grey sofa, is that it gives you carte blanche to add your personality in other ways, such as adding cushions. The great benefit of cushions is that they are an inexpensive way of updating your interior, to add colour and a fresh feel to your room. They will also give additional cosiness to the living space and have the added benefit of giving support where you need it, such as behind your back or neck.
When choosing your cushions for your sofa, there are several considerations before making a purchase:
Number of cushions - this depends on the size and style of the sofa. Some sofas have a deep sit, which invites plenty of space for additional cushions. What we don't want to do is fill the sofa with so many cushions that it leaves no space for anyone to sit comfortably. A mixture of colours/patterns works best to add interest. A classic rule is for the cushions to sit in the corner of the sofa, so it's best to buy two or four cushions. If you have armchairs next to the sofa, choose one for each armchair.

Shape and size - square cushions work well on both low-backed and high-backed sofas. However, sofas with lower backs are better served by rectangular cushions, which will also look good on wide armchairs. When deciding on the size this needs to be in proportion to the size of the sofa. We don't want to add very large cushions on a small sofa, as not only would that be impractical, but it would also make the sofa look smaller too. It is worth looking at different sizes of cushion on the same sofa too, especially when you are buying more than two. A large cushion placed behind a smaller square cushion can look really effective as it allows additional colours and interest in the interior. Round or bolster cushions shouldn't be overlooked as they can be a great choice, especially on an angular shape sofa, to give added depth and textural dimension.

Material – when choosing cushions for your sofa, it's good to consider the material. It needs to match or contrast with your sofa fabric. For example, a velvet cushion works with a velvet sofa, but equally effective would be a faux fur cushion on a linen look sofa. It is important the cover is removable so it can be cleaned. Each of the materials used for cushion covers has distinctive characteristics:
a) cotton – natural feel and non-allergenic

b) velvet - plush pile and glamourous

c) polyester – versatile and hard wearing

d) linen – natural fibres and soft colours

e) silk – smooth and luxurious

f) faux fur – fluffy, cosy, and warm to the touch

g) recycled fibres – soft feel and a great sustainable option.
Filling – usually polyester fibre or feather filled. Polyester keeps its shape and is the most cost-effective option. Feather is a more upmarket choice and needs to be plumped to keep its shape, but it will give you that all important interior design 'chop' that is seen in all the best dressed homes and interior magazines.

Colour - when choosing cushions for a grey sofa or any other light colour, it's good to choose those with a complementary colour or pattern. Finding matching cushions for a grey sofa can be a little problematic and really will add nothing interesting, other than extra comfort to the space. So, let's be more adventurous and unleash our creativity. You can use just about any colour with grey as a base, but the most popular for a taupe-like grey are mustard yellow, blush pink, coral, or gold. For a cooler shade of grey that leans towards more bluey hues, look at teal, navy blue, mint, or deep green. Remember that the chosen colour palette should be consistent with the rest of the elements in the décor. The colours you choose for the cushions are a great way to tie in other colour accents in the room to create a true cohesive and balanced look.

Patterns – the great advantage of a plain sofa is that you can experiment with patterns to add an extra dimension to your interior. For example. if you like retro style, there are some great mid-century inspired printed cushions that look fabulous on furniture. To personalise your space even more, you may wish to look at cushions that can be printed with your favourite phrase, pet portrait or even your children. Because patterns can be a real style statement on your furniture this gives you the added advantage of being able to follow the latest trends and when a new trend comes along, you can just replace the cushions without incurring too much expense. A cushion in interiors is the handbag equivalent in fashion.

Seasonality – a playful idea when choosing your cushions is selecting pieces to reflect the season. So, for the Winter months you may prefer a darker colour palette, emulating the cosiness needed for the colder months. For Christmas you can add fun motifs such as snowmen and Christmas trees. In Spring and Summer, you may prefer brighter colours, such as fuchsias, oranges, and vivid yellows.